We had a small group and great discussions at our last meeting. We mostly thought
Thirteen Reasons Why
by Jay Asher was a very important book for teenagers (and the adults who work with them) to read, since it portrayed how people's words and actions can have an affect on others -- sometimes a very negative affect. One person said she absolutely 'hated it,' and she felt it wasn't realistic for someone contemplating suicide to take the time to meticulously make tapes explaining the reasons, as well as to create a specific plan for their dispersal. We also felt that throughout the whole story we never really got to know Hannah or Clay or any of the other characters beyond the suicide-related issues. We did feel that it was good to read about Clay's remorse over not having said or done something to help Hannah, but we understood how a teen-aged boy's reluctance was probably quite normal and usual. We did agree that it was a compelling and engaging story, and we knew that many teenagers were obviously reading it as evidenced by the well-worn (and sometimes sticky!) library copies.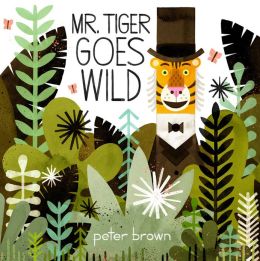 We all liked the picture book,
Mr. Tiger Goes Wild
by Peter Brown, although one of our members felt it was quite predictable and a bit didactic in its message of 'be who you are.' We loved the illustrations, which although quite stylized, provided many specific and humorous details when perused carefully, like the animals' expressions, their clothing, etc. Some of us saw a similarity between this book and Where the Wild Things Are. . .the abililty of the main character to go off and 'be wild,' and then to come back and be welcomed (even though Mr. Tiger's food wasn't still warm like Max's!!) We felt it was a great read-aloud, and that young children would probably like it and understand it.